Wearing contact lenses is an excellent way to improve your vision, especially if you prefer not to wear glasses. However, before you get contact lenses, you need to have a contact lens fitting with your optometrist to help you find the right pair of contacts for your vision needs and eye health.
In a contact lens exam, your optometrist will take detailed measurements of your eyes not captured in a comprehensive eye exam. Whether you need scleral, toric, or other specialty contacts, a thorough contact lens exam and precise fitting can help identify the most comfortable lenses for your unique eyes.
What Is a Contact Lens Fitting?
A comprehensive eye exam can assess your visual acuity and identify eye conditions affecting your ability to wear contact lenses. During the fitting, your optometrist will test your vision, assess the shape and size of your eyes, and take measurements of your cornea and pupils.
Corneal Measurement
Your eye doctor will begin the fitting process by measuring the shape and size of your cornea. The cornea is the clear, dome-shaped tissue at the front of your eye that helps to focus light.
Your doctor will use a keratometer or a corneal topographer to measure the cornea's curvature. This process is quick, noninvasive, and comfortable. This measurement will help determine the right lens curvature for your specific eye shape.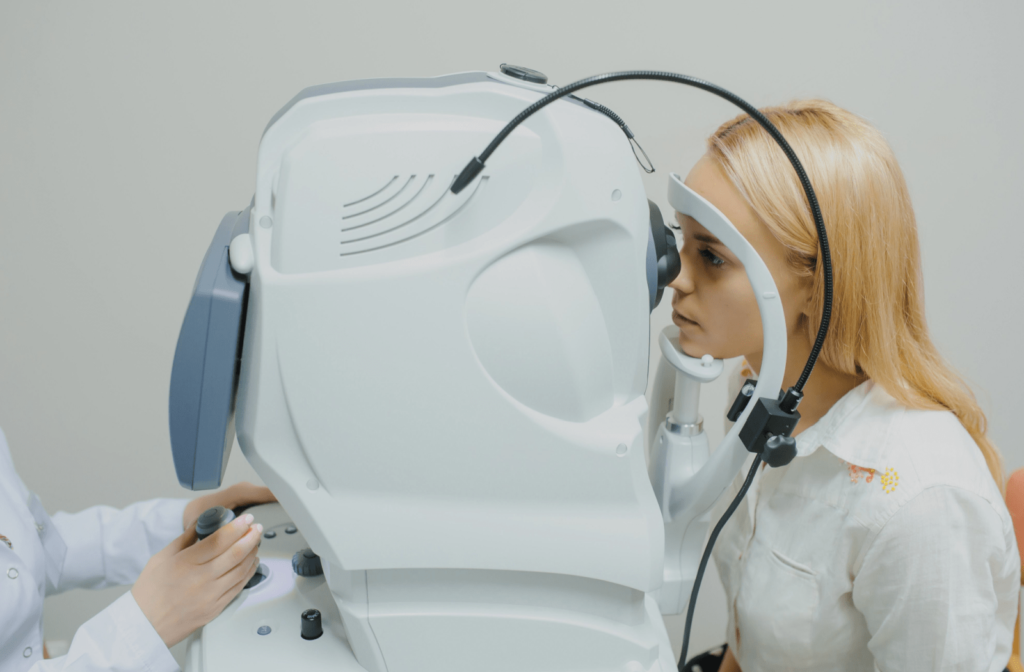 Pupil & Iris Measurements
Your optometrist will also measure the size of your pupils and irises. They may take an anterior segment optical coherence tomography (OCT) image of your eyes, which provides a detailed view of your eye's structures that can't be seen with a typical eye exam, or they may take manual measurements.
With the help of this technology, your optometrist can help you find a comfortable fit.
Tear Film Evaluation
Dry eye disease is prevalent among contact lens wearers. During a contact lens fitting, your optometrist may evaluate your tear film to check for signs of dry eye. This is important because contact lenses are placed directly on the eye's surface, and a poor tear film could make it difficult for the lenses to adhere to your eye and limit the amount of oxygen your eyes receive, resulting in irritating dry eye symptoms.
Contact Lenses Prescription
They will then recommend the type of contact lenses that are most suitable for your eyes and prescribe the correct contact lens parameters, such as:
Corrective power: These numbers represent the power needed to correct your myopia, hyperopia, or astigmatism
Base curve: This number indicates the shape of your contact lens compared to the natural curvature of your cornea
Diameter: This number represents the size of the lens needed to cover the cornea
The Importance of a Contact Lens Fitting
Contact lenses are medical devices that can affect your eyesight and comfort. A poor-fitting contact lens could cause eye infections, corneal ulcers, or vision problems. A contact lens fitting helps your optometrist choose lenses that fit your eyes well, allow you to blink comfortably, and are unlikely to cause adverse reactions.
Contact Lens Types
During your fitting, your optometrist will recommend a type of contact lens for your eyes and lifestyle. There are different types of contact lenses available, including:
Soft lenses
Rigid gas-permeable lenses (RGP)
Hybrid lenses
Specialty lenses
Soft lenses are the most popular type of contact lens and are available in daily, weekly, bi-weekly, and monthly wear options. RGPs are typically used for people with astigmatism or a high prescription and provide crisper vision. Your optometrist can make recommendations and provide trial pairs to help you find the most comfortable lenses for your eyes.
Follow-Up Appointments
A contact lens fitting is not a one-time event. After the initial fitting, your optometrist will likely schedule follow-up appointments to assess the performance of the lenses and make any necessary adjustments. During these appointments, your optometrist will evaluate the lens's movement, edge fitting, and overall comfort. This fine-tuning can improve the comfort and clarity of your contact lenses.
After your optometrist suggests the type of lenses suitable for your eyes, they will test the fit of the contact lenses by asking you to put them in, checking that they match the contours of your eyes and provide optimal vision. The optometrist may ask you how you feel about the contact lenses while observing how it sits in your eyes and the lenses' stability.
If the contact lenses are uncomfortable or ill-fitting, your optometrist can offer an alternative type or size.
Proper Contact Lens Care
Your eye doctor will send you home with an understanding of proper contact lens care instructions. If this is your first time using contacts, your optometrist can show you how to properly insert, remove, and clean your contact lenses.
Some best practices for contact lens wearers include:
Always wash your hands before touching your contact lenses or eyes
Only wear your contact lenses for the recommended length of time
Dispose of your contact lenses at the prescribed intervals
Don't sleep or nap when you're wearing your contact lenses
Inspect the lens for tears, deposits, or buildup
Contact Lens Fittings in Calgary
A contact lens fitting is an essential step in the process of getting contact lenses. The fitting helps your optometrist fit the lenses so they feel comfortable and are well-fitting and suitable for your eyes. It also helps to prevent eye complications that may arise with improperly fitted lenses.
If you're considering getting contact lenses for the first time or want to try different contact lenses, contact Eyesis Eyecare Center to schedule a contact lens fitting appointment today.