Cataract surgery has helped many Canadians prevent impending vision loss. It's a common treatment for a progressive condition which causes clouding in your eye's lens.
Also, because surgery removes the affected lens and replaces it with an artificial one, there's no chance your cataracts return after surgery. Instead, you may experience a condition called secondary cataracts, which has similar symptoms. However, it can be diagnosed with a comprehensive eye exam and treated with a quick procedure.
What Are Cataracts?
Cataracts are a natural part of aging where the proteins in your lens gradually break down, causing vision loss and potential blindness. While mild cataracts could be corrected with glasses or contact lenses, this condition is progressive. As a result, the proteins may continue to break down, the clouding may worsen, and you may develop symptoms that affect your daily life.
Cataract symptoms include:
Cloudy, foggy, or hazy vision
Blurry vision
Colours appear dull or faded
Double vision or ghost images
Trouble with night vision, such as driving or reading
Halos around lights
Increased glare sensitivity
The symptoms you experience (and how quickly they may progress) depend on the type of cataracts you develop. Cataracts are generally categorized by where they originate:
Nuclear cataracts develop in the centre of the lens
Cortical cataracts develop on the edges of the lens
Posterior subcapsular cataracts develop at the back of the lens
Though, as we said, cataracts are a natural part of aging, they could be caused in other ways. Most notably, some people are born with a clouding in their natural lens, called congenital cataracts. Other types of cataracts could be caused by:
Eye damage
UV damage
Diabetes or obesity
Hypertension
Chronic kidney disease
Autoimmune disease
Certain medications, smoking, and excessive alcohol consumption may cause cataracts to develop early.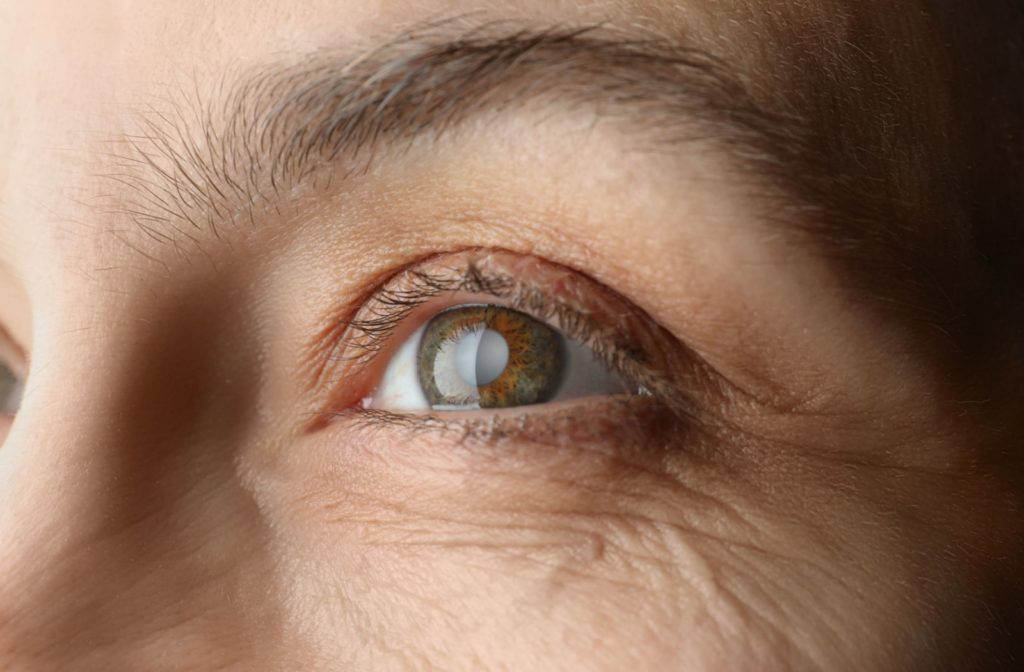 What Happens During Cataract Surgery?
With medical technology advancing, freedom from hazy vision caused by cataracts is more accessible to the public. In fact, cataract surgery is one of the most common surgeries performed in Canada.
To begin, an optometrist or ophthalmologist will examine your eyes to determine if you're a good candidate for the procedure. Since early cataract symptoms might only minimally affect your vision, a doctor may recommend waiting to see how your cataracts progress. You'll also need to be in good health and may need to treat dry eye symptoms before surgery.
If you and your eye doctor decide the best course of action for your vision is to remove the lenses, your optometrist can measure your eye for the replacement lens, and surgery can proceed. You'll likely need to fast before the surgery and should take the day off from work.
The surgeon will numb your eyes with eye drops before breaking up the original lens and replacing it with an artificial intraocular lens (IOL). You could have surgery at a hospital or as an outpatient procedure, so your optometrist will recommend the setting they believe will work best for you.
In general, most patients can return home the same day, though you'll need someone to drive you.
What if Cataract Symptoms Return?
One massive benefit of cataract surgery is that it completely removes the affected lens. This means your cataracts cannot return because there's no lens for them to return to. However, some people may experience a common side effect of cataract surgery, which can feel like their cloudy lenses have come back.
Secondary cataracts, also known as posterior capsular opacification, is a condition that may affect people months or years after their cataract surgery. It's a clouding of the lens capsule that can appear to you like cataracts.
The lens capsule is the thin membrane that surrounds your lens. Its purpose is to give your lens shape so it can focus light. When your natural lens is removed, the IOL takes its place within the capsule. If epithelial cells from the lens (a type of tissue) are left behind after the surgery, they can attach to the lens capsule and build up over time, causing the capsule to grow cloudy.
Fortunately, your optometrist can treat secondary cataracts. Typically this is a surgery in which your doctor uses a laser to make small holes in the lens capsule, cleaning off the buildup. These holes let light pass through the IOL. After the surgery, you may notice additional floaters in your vision, but they should dissolve naturally.
Clearing Cloudy Vision in Calgary
Cataracts may cloud our vision and steal our sight, but that's not the end of the story. Eyesis Eyecare Center can examine your eyes for signs of cataracts and take you through your options. Your vision is precious, and we're proud to serve our community with eye exams, emergency eye care, and dry eye therapy.
If cataracts are affecting the way you live, book an appointment with us and get individualized support for your vision.