During a diabetic eye exam, your eye doctor performs additional tests to observe the back of your eye and thoroughly check for eye diseases or conditions that diabetes can put you at a higher risk for.
One of your optometrist's primary missions is to ensure your eyes are the healthiest they can be. Some people don't realize that much of your eye health is connected to your physical health.
As important as seeing your eye doctor is for your eye health, you can do different things to help lower your risk of diabetes-related complications for your vision. Stick around and find out more below.
How Does a Diabetic Eye Exam Differ From Other Exams?
There isn't a one-size answer for preventative care. An adult typically receives a different eye exam than a child does. This isn't to say that one person's vision is more important, but the care they need differs.
A diabetic exam functions similarly. Someone with diabetes is at a higher risk of certain eye diseases or conditions, such as glaucoma or cataracts. During these exams, your optometrist may perform additional tests and focus more on detecting certain things.
Significant Focus of a Diabetic Eye Exam
During an adult comprehensive eye exam, it's likely your eye doctor is investigating the following diseases or conditions to some degree, in addition to checking things like your visual clarity or the presence of refractive errors. The primary difference is that when diabetes is an underlying disease, your optometrist can take extra steps to diagnose related conditions.
Diabetic Retinopathy
Anyone with diabetes—type 1 or 2—can develop diabetic retinopathy. One of the most significant problems with diabetic retinopathy is the retina can sustain damage and show up with little to no symptoms at first. And vision loss cannot be recovered once it's lost.
A sudden burst of floaters, blurry vision, or dark or empty spots in your sight are all signs that diabetic retinopathy could be developing. But during your dilated diabetic eye exam, your eye doctor may be able to detect the condition before any vision loss occurs.
Cataracts
Vision loss or trouble seeing from cataracts is from the eye's natural lens becoming cloudy. Typically this condition develops slowly over time. Even after your eye doctor detects cataracts, you don't necessarily need treatment right away. Many people find an increased prescription or brighter lights helpful, albeit temporary solutions, before the cataract fully develops and requires cataract surgery.
Glaucoma
The primary cause of glaucoma is typically an abnormally high-pressure level within the eye—normal-tension glaucoma is an exception to the typical cause. Having diabetes puts you at a greater risk for glaucoma.
Open-angle glaucoma is the most common form of glaucoma. Like many other eye conditions, it can develop slowly over many years before symptoms become noticeable.
Glaucoma has no cure, and vision loss from the condition cannot be recovered. That's why seeing your eye doctor for recommended exams is so important. For many adults, this is every two years. But for those with diabetes, at least one diabetic eye exam per year is recommended.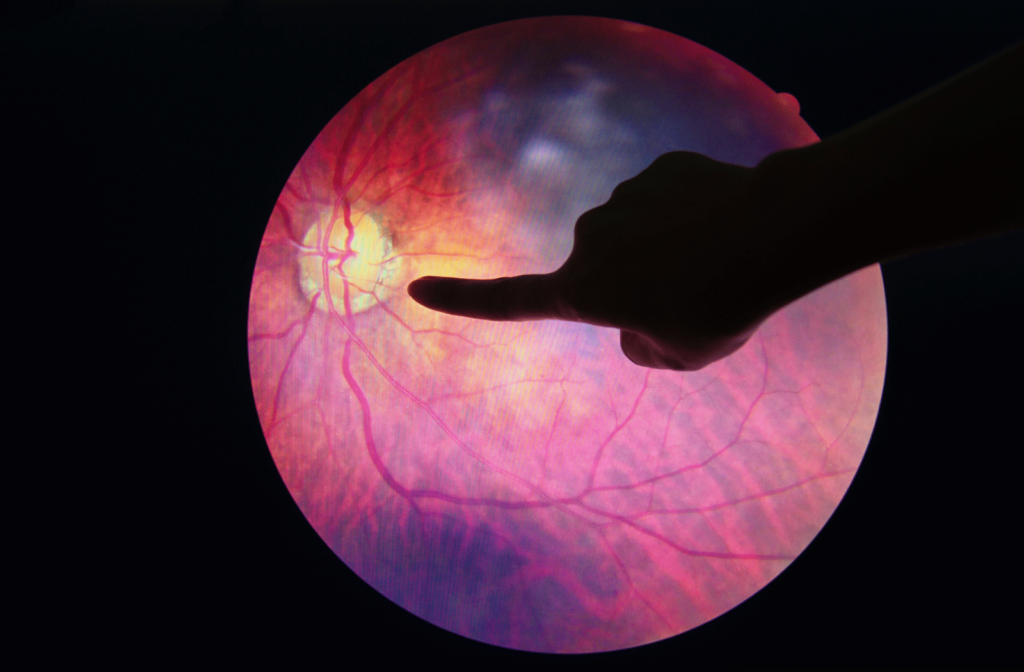 Preventing Diabetes-Related Vision Problems
Everyone needs to see their eye doctor. But eye exams are only one aspect of caring for your eyes and vision. You'd likely be hard-pressed to find a medical professional who would disagree with the importance of disease prevention.
Managing Diabetes
Diabetic retinopathy and glaucoma are linked to the high blood sugar that can accompany unmanaged diabetes. Ensure that you monitor and care for your blood sugar levels and blood pressure as part of caring for your long-term vision.
Lifestyle Changes
The goal of lifestyle changes isn't to find a magic bullet that prevents disease. It's to build healthy habits and include (or exclude from) certain things in your life.
For example, eating a healthy, balanced diet that includes a lot of omega-3 fatty acids is a great lifestyle choice that will benefit your eyes. Additionally, staying active, wearing sunglasses when exposed to sunlight, limiting alcohol consumption, and not smoking are all things that will contribute to healthy eyes and good vision and benefit your body in other ways.
Discuss Your Next Diabetic Eye Exam With Us
Regular eye exams are an integral part of caring for your body with diabetes, much the same way as you pay attention to blood sugars or take medication as needed. Most people with diabetes should see their eye doctor annually. Still, your eye doctor may recommend a different schedule based on your eye health or vision needs.
Give us a call today. The professional staff at Eyesis Eyecare Optometrists are happy to answer all of your questions and book you an appointment in Calgary.