Your child's vision is the window to their world, so if they have an eye condition like amblyopia, it's no surprise that it can affect their life in multiple ways. Your child relies on their vision for everything they do, from school to sports or even just playing with their friends.
At Eyesis Eyecare Center, we want to ensure your child has the best possible vision throughout their life, which is why we always strive to go above and beyond when your little one comes in for a visit.
If your child has amblyopia, you may wonder if it can be treated. The good news is that it can be corrected, which is most effective in young, developing eyes. Keep reading to learn more about amblyopia, how it's diagnosed, and what treatments are available.
What Is Amblyopia?
Amblyopia, more commonly known as lazy eye, is a condition that occurs when the vision in one eye is impaired while the vision in the other eye is normal. Eventually, the brain can begin to suppress information from the weaker eye, worsening the condition.
Unfortunately, if your child has this condition, it's not always obvious until they begin school or another activity that requires good vision. But it can be diagnosed during a routine eye exam even if your child doesn't have noticeable symptoms.
Symptoms of Amblyopia
You may notice any of the following signs and symptoms:
One of their eyes wanders inward or outward
They bump into things due to poor depth perception
They often squint, shut an eye, or tilt their head to see
It can be challenging to tell if your child has amblyopia without professional help. Regular children's eye exams are necessary to ensure your child's eyes are developing properly.
It All Starts with an Eye Exam
Children's eye exams are essential because they help keep your child's eyes healthy and happy.
These exams allow their optometrist to detect vision problems early, which means they can be treated sooner and more effectively.
When Should Your Child Get an Eye Exam
The Canadian Association of Optometrists recommends the following eye exam schedule for children:
Birth to 2 Years: Your child should get their first exam
Age 2–5: Your child should have their second exam
Age 6–19: Your child should have an exam annually
If your child is experiencing any vision problems, it's important to bring them in to see their eye doctor regardless of when their last eye exam was.
Can Amblyopia Be Cured?
Whether or not amblyopia can be cured depends on the cause of your child's condition and how long they've had it. Glasses that blur the stronger eye or an eyepatch that covers the stronger eye to encourage the brain to use the stronger eye are the most common forms of treatment.
In some cases, treatment can improve vision enough so glasses or contact lenses are no longer needed for clear vision. However, in other cases, treatment may only be able to reduce symptoms but not eliminate them entirely.
Treatment Options For Amblyopia
There are a variety of treatments your child's optometrist may recommend if they have amblyopia.
Corrective Eyewear
Glasses or contact lenses can correct vision problems that cause amblyopia, such as nearsightedness, farsightedness, or astigmatism.
Eye Patching
Eye patching is an effective treatment for amblyopia. With this treatment, a patch is placed over your child's stronger eye to stimulate the weaker eye. If worn 2 to 6 hours a day, patching can increase the strength in your child's weaker eye.
Bangerter Filter
Bangerter filters work similarly to patching. This filter is placed on the eyeglass lens of the stronger eye, slightly blurring the vision in that eye and stimulating the weaker eye.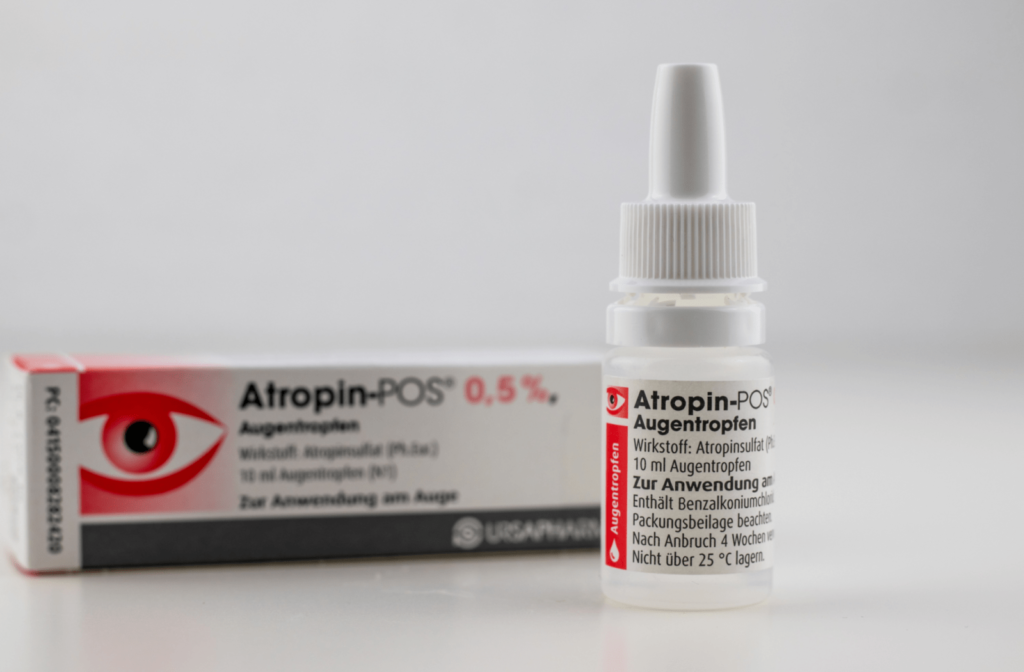 Atropine Eye Drops
Atropine eye drops temporarily blur vision. When placed in the stronger eye, it encourages your child to rely on their weaker eye to improve vision.
Eye Surgery
If your child's amblyopia is a result of another eye condition, their eye doctor may recommend eye surgery to treat the underlying condition before following up with other amblyopia treatments.
The Takeaway
Amblyopia is a common condition that affects many children.
Unfortunately, it can be difficult to tell if your child is having problems with their vision, so it's imperative to bring them in for regular children's eye exams.
At Eyesis Eyecare Center, we're dedicated to offering comprehensive care so your child can live a happy and healthy life. If you're concerned about how your child's vision is developing, we're always here to help.
Visit our website or give us a call to book your child's next appointment today.